New Product | 12th Gen Industrial Computer with Low Power Consumption and High Performance
Time:2023-08-15 09:49:00
Visit:411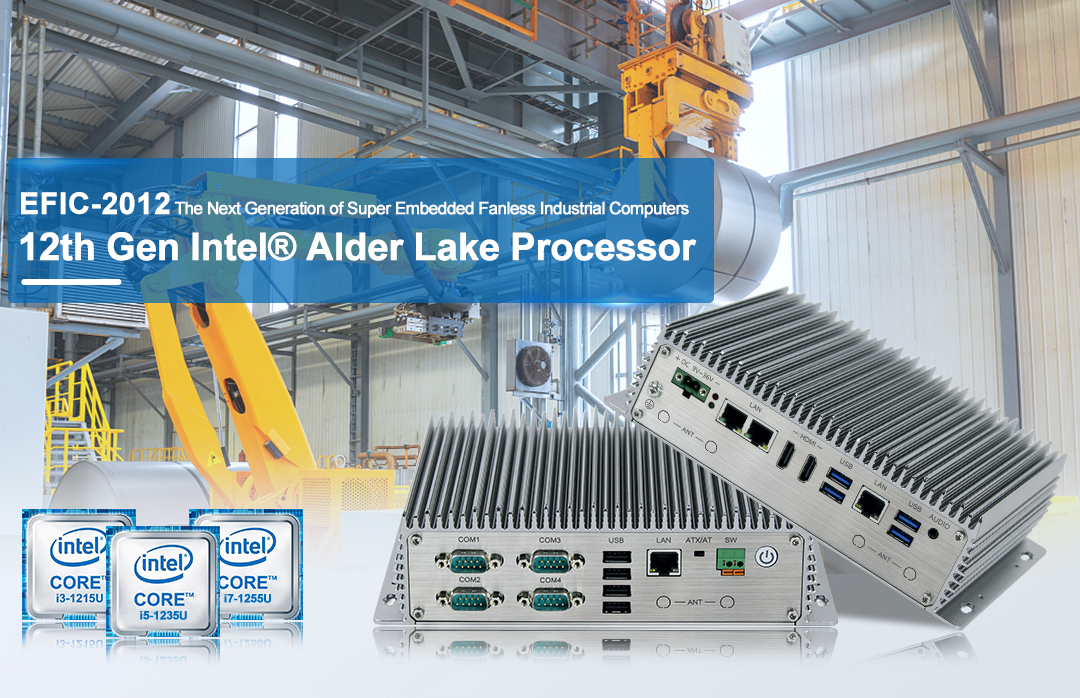 QYT EFIC-2012 is the latest fanless industrial computer, equipped with the 12th generation Intel® Alder Lake processor, configured with up to 10 cores (2P+8E) and 12 threads, and its processing performance is more than 1.35 times that of Comet Lake. EFIC-2012's comprehensive high-efficiency core and powerful multi-thread processing capability can realize simultaneous processing of multiple tasks and complex data analysis. The memory of FIC-2012 supports DDR5 64GB 4800MHz and ECC error correction technology, which can detect and correct errors in the memory in real time to ensure the stability and reliability in the process of data processing and transmission. The Intel® Iris® Xe Graphics display chip provides powerful graphics processing capabilities, enabling finer image display and visual data analysis. EFIC-2012 is equipped with rich I/O interfaces, including 3 2.5GbE and 1 1GbE network ports; 4 USB 2.0 and 4 USB 3.2 Gen2 interfaces; 2 HD-MI supports dual independent display; built-in expansion slot, Expandable M.2 (Key-E, 2230, PCIe+USB, Wifi+BT), M.2 (Key-B, 2242/3052, PCIe/ USB 3.0+USB2.0, 4G/5G), M.2 (Key-M, 2280, PCIe x4 NVMe/ SATA, SSD), providing complete wireless transmission methods, such as WiFi, GNSS, 4G/5G and Bluetooth, etc.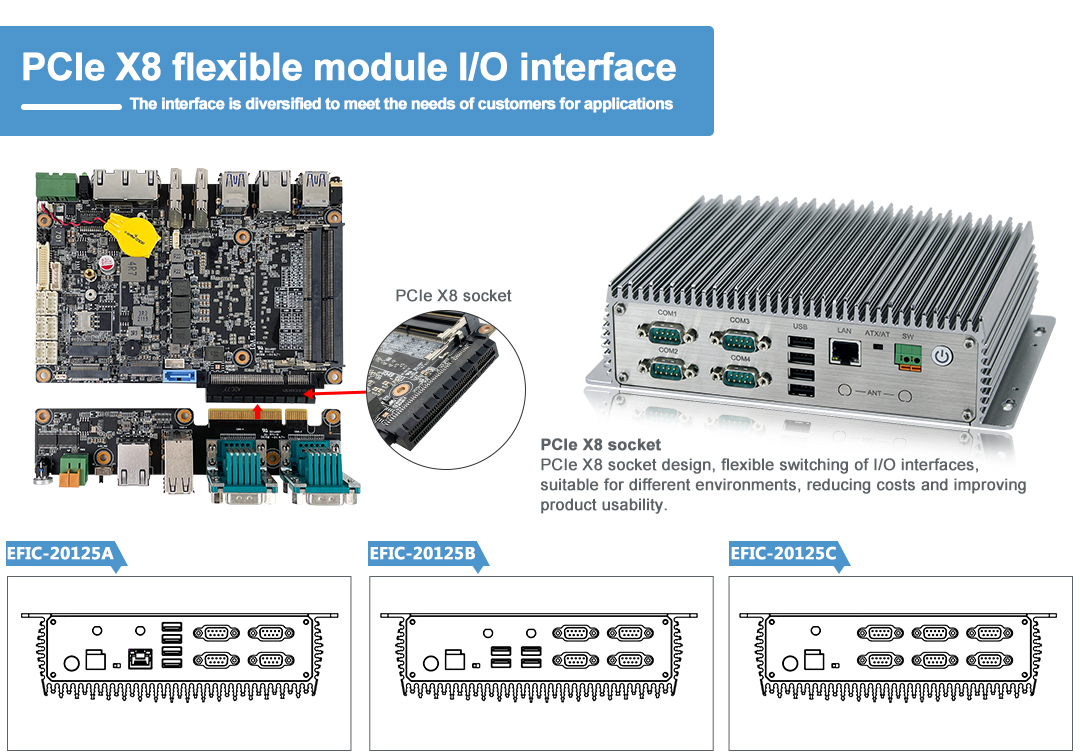 QYT EFIC-2012 adopts modular design concept. In addition to rich native I/O interfaces, EFIC-2012 can also add more I/O interfaces through PCIe X8 QYT exclusive modules, such as LAN, M12, DIO, COM and other modular scalability solutions. Effectively meet diverse application requirements.
Low-Power & High-Performance
Industrial PC is equipped with the 12th gen Intel® Alder Lake Core processor. it can provide Core i3-1215U 1.2GHz, i5-1235U 1.3GHz, i7-1255U 1.7GHz processor options. Compared with the 8th generation solution. QYT's design improves the performance of CUP by up to 24%. At the same time, the memory DDR5 4800mhz data speed is 1.5 times that of DDR4, dual-channel SODIMM x 2, up to 64GB, and the graphics processing capability has been increased by 2 times. The 12th generation equipped with EFIC-2012 provides stable support for various industry applications through its powerful design functions and industrial features.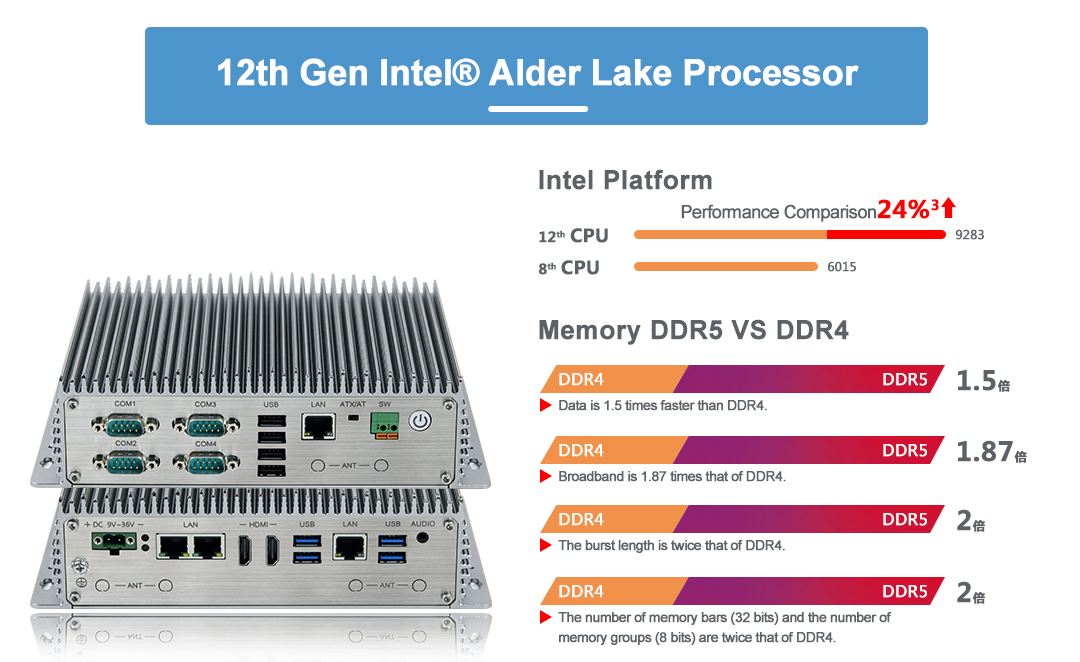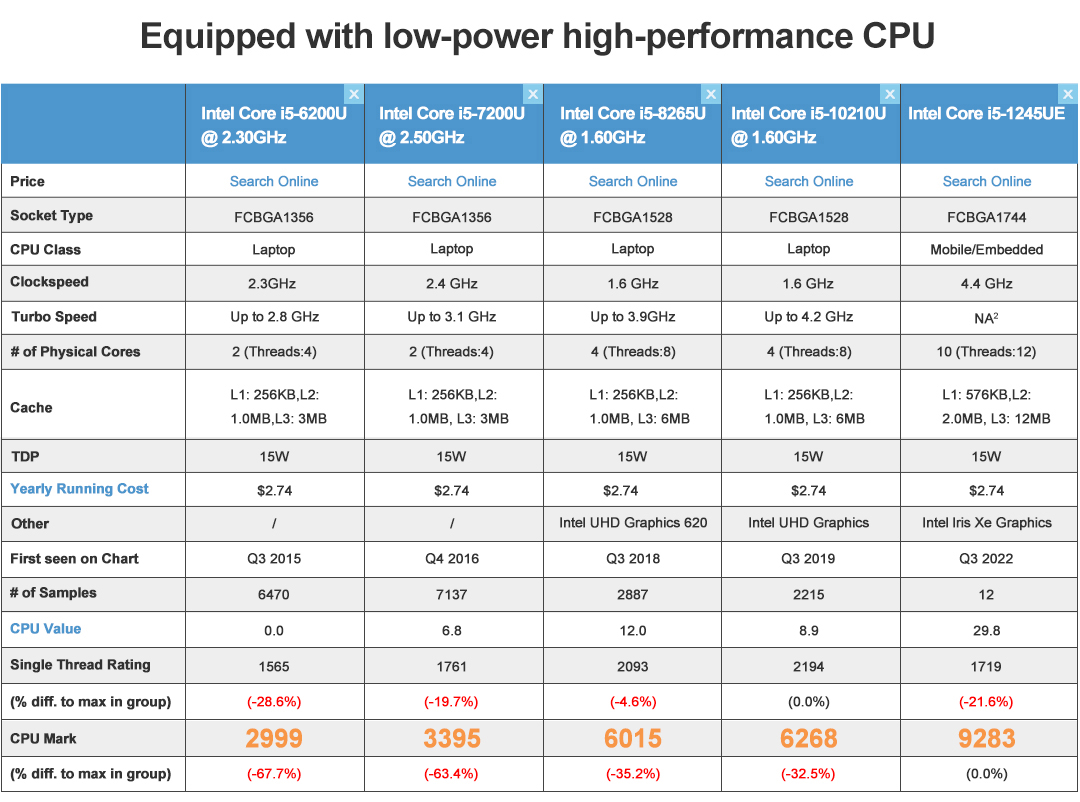 TPM Function
The TPM standard ensures secure data storage and platform authentication and integrity auditing. The three-tier structure of TPM 2.0 allows the use of multiple keys to improve the security of the TPM 2.0 standard, which provides better protection against malware and rogue applications that affect legitimate processes.

Wide Temperature
Thanks to the use of high thermal conductivity heat sinks and an all-in-one chassis as heat sinks, the embedded industrial PC can operate in extreme cold and hot environments ranging from minus -20°C to plus 70°C. Supports wall-mounting and is very suitable for industries such as vehicle-mounted computers, automatic navigation multi-tasking robots, industrial control equipment, logistics sorting and 3D visual guidance, machine vision, face recognition analysis, and intelligent access control systems.
Wide Pressure
When embedding an IPC into an external system, the ability to control the voltage input is critical to extending the life of the hardware. The embedded industrial computer has OVP (overvoltage protection), OCP (overcurrent protection) and RPP (reverse Polarity protection). The OVP function will automatically cut off the power input exceeding 40V to avoid burning internal components. The system is compatible with the input range of 9V to 36V and is suitable for deployment in different applications.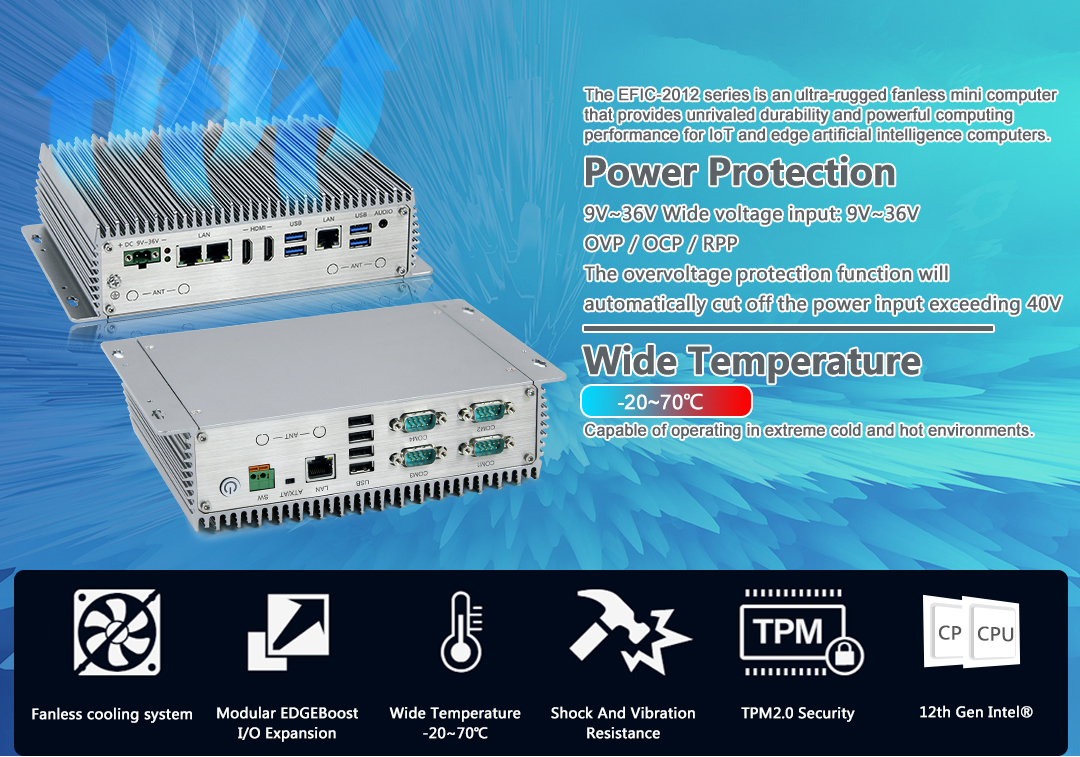 Main Features
1. All-aluminium alloy structure rugged and compact, fanless design
2. Intel 12th Core i5-1235U 1.5GHz 10-core processor
3. 2 x DDR5 SO-DIMM DDR5-4800 max up to 64GB
4. Support HDMI dual independent display
5. 4 Ethernet ports (2.5GbE / 1GbE) and 4 USB 3.2 Gen2
6. Support encrypted onboard TPM2.0 module
7. Support wide voltage DC 9V~36V input