Industrial pc optimized charge station service and operating efficiency
Time:2022-05-07 11:38:33
Visit:1094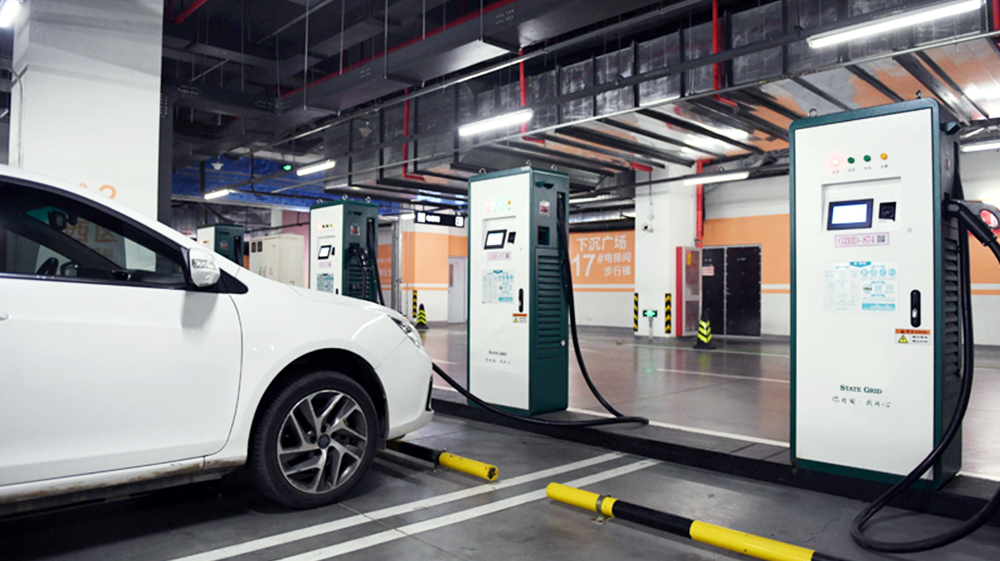 Indroduce
With the global climate change, governments in various countries have accelerated the development of electric vehicles in order to encourage energy conservation and carbon reduction. The one of the important step in the development of electric vehicles is to set up a wide range of charging stations to drive the entire industry application.
According to a market research city research agency by Facts and Fact Research, by 2026, the global electric vehicle charging station market is expected to reach 70 billion U.S. dollars, with a compound annual growth rate (CAGR) of 33% (2019 to 2026). obviously demand for charging stations is growing rapidly .
One of QYT European client who provides software and hardware integration services for charging stations,their business scope covers the entire Europe.their intelligent charging load control system allows a single charging point to simultaneously charge 30 vehicles at the same time.via optimized power control, it will accelerate the distribution of power to each charging pile. The most important of intelligent load control is a strong embedded industrial computer, which can ensure the stable and reliable operation of each charging station, and assist charging station operators to accelerate management and create the utilization rate of charging stations.
Equipment requirements
Car owners can operate the charging pile, including detecting the car power and charging. and also , the self-service recharge card can be used to charge the card and print the receipt.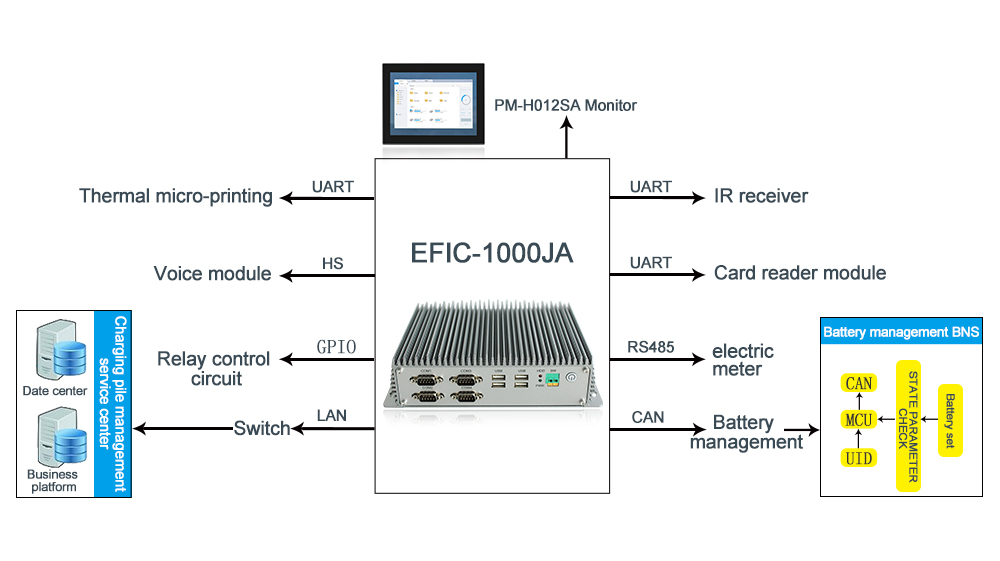 System description
The charging pile is controlled by EFIC-1000JA. there are 4 kinds charging mode for option, from the instructions on the LCD display: including charging on time, charging according to power, automatic full, charging according to mileage,realize functions such as self-service card charging, balance inquiry, billing inquiry, etc. It can also provide a voice output interface to realize voice interaction.
Solution
1. Readable under the sun and touch panel waterproof rated IP65
PM-H012SAC embedded touch monitor brightness 1000 cd/m2,front panel is Sandblasting and oxidation treatment of aluminum alloy structure. Comply with ip65 waterproof standard.
2. Multiple devices can be connected,Realize comprehensive statistics of data.
Embedded computer use for Calculate the available charging power,And dynamically control each charging station,Real-time monitoring and control of the operating status of charging equipment and maximizing equipment utilization,Through the management program, you can set, monitor, and upload the charging records and data to the remote control room.
3. Stable and reliable
The embedded computer support wide range working temperature, rugged design, meet the charging station needs to be outdoors in severe environments and continue working in 24 hours. and ensure stable operation, safety and operational efficiency.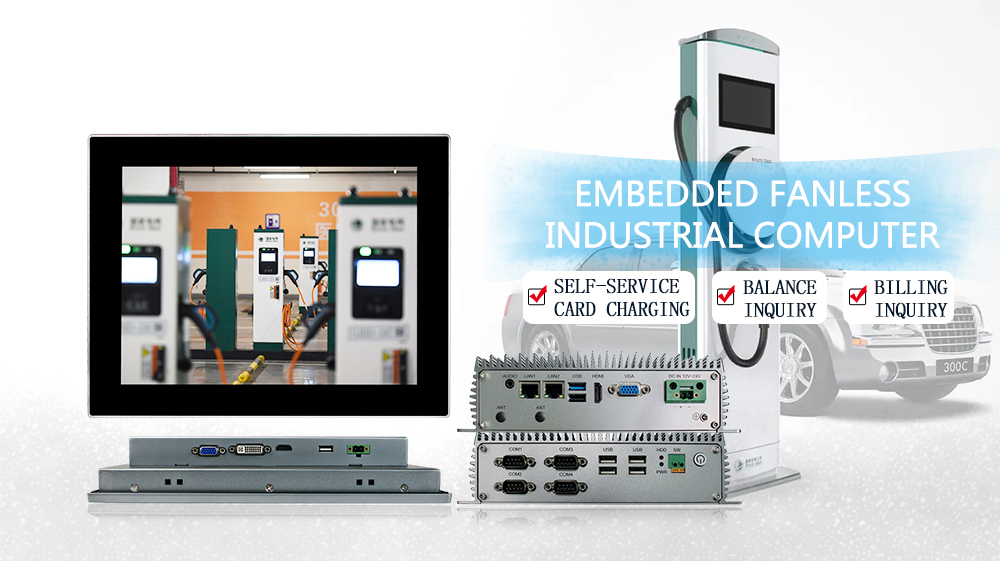 EFIC-1000JA Feature
1. Aluminum full sealed,Hard anode sandblasting and oxidation treatment, anti-scratch.
2. Intel Celeron J1900 2.0GHz silent fanless PC
3. 2 Lan 1000M ports, support Wol and PXE
4. COM*4 (RS232/RS485 optional) 1 wifi/bluetooth/4G optional
5. Support wide range DC12~24V Power input
PM-H012SA feature
1. Aluminum alloy front panel,Comply with ip65 waterproof standard.
2. 12.1" TFT LCS, 800x600 screen resolution, 10 point Capacitive touch.
3. Mounting: embedded/VESA mounting
4. Support HDMI/VGA/DVI multi-signal input
5. DC12V Power input, can be upgrade to DC9~36V input

Recommended products